THE MORRISON TEAM: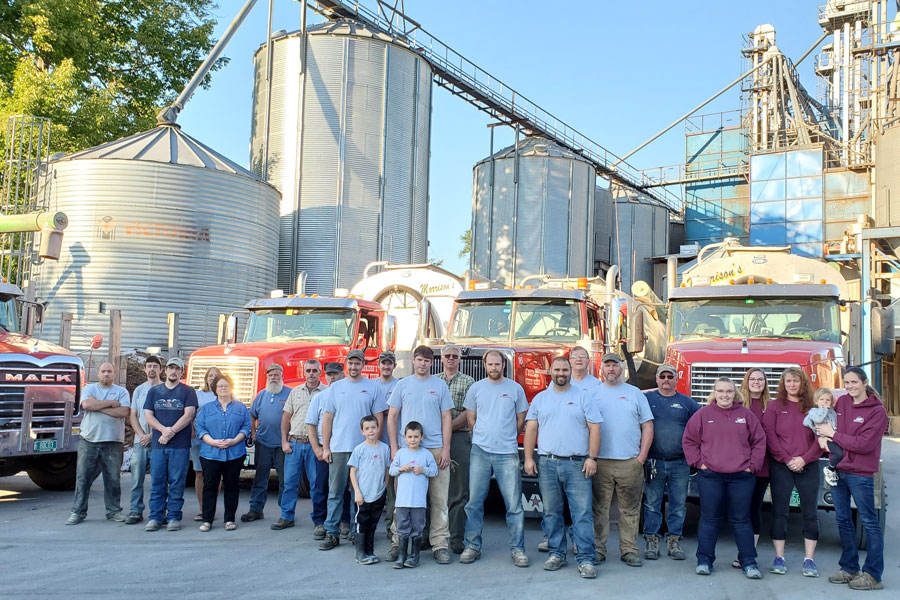 PRESIDENT
Leslie Morrison, President of Morrison's Custom Feeds, Inc., is a 4th generation farmer whose family has raised dairy cattle, sheep, and chickens. Les graduated in 1971 from VTC with a Degree in Agriculture Business. After graduation he started a small business of selling and installing automated farm equipment and grain handling equipment. This gave him the skills needed to build a feed mill. He started Morrison's Custom Feeds 30 years ago, bringing his strong farm family values to the feed business. Over those years he has enjoyed the challenge of building a successful feed company and watching it grow. When he has down time away from the mill he enjoys working the fields and growing grains. Enjoying most of all, spending time with his family.
PLANT MANAGERS:
Earl Morrison has been an active player in the family business since he could walk, taking a strong interest in machinery at a young age then later the manufacturing of feeds. Les's oldest son joined the company full time in 2005 after graduating from SUNY Cobleskill with a bachelor of technology degree in Agriculture Business. He now manages the feed mill, drives tractor trailer and works closely with Vermont farmers who grow and supply grains for the plant. Earl brings incredible dedication to his work with Morrison's Custom Feeds and believes in the future of agriculture in New England.
NUTRITIONISTS:
Greg Morrison has grown up working at the Morrison's Custom Feeds mill on weekends and during his vacations from school. From the time he could swing a hammer he has helped his family make improvements towards the state of the art facility they have today. He graduated in November 2010 from SUNY Cobleskill with a Bachelor's Degree in Agricultural Business. Upon returning home he co-managed the mill with his brother Earl. Currently he is pursuing his interest in nutrition and sales covering South Central Vermont. Greg enjoys working with both conventional and organic farms and knows in today's markets you have to be creative so farms can be profitable.  Greg covers south central Vermont and can be e-mailed at greg@morrisonsfeeds.com
Mike Thresher is a 3rd generation Vermont farmer with a passion to see the farms in Northern New England survive and flourish. He graduated with a degree in Agribusiness Management, worked early on in the dairy feed business, then joined the family dairy and took over the farm in 1997. In 2000, Mike joined with Morrison's Custom Feeds and helped it become a leader in the Northern New England organic dairy industry. In addition, he has worked to expand and develop the conventional dairy program at Morrison's.  Mike currently covers much of Vermont and aids in the management of farms across the Northeast. Mike can be reached at mike@morrisonsfeeds.com
Yianna Rhodes is a first generation American, college graduate, and animal scientist. She graduated from the University of New Hampshire in May of 2018 with a bachelor's in Animal Science where she completed the CREAM program. She is currently continuing her education with an MBA through Fitchburg State University. Her background includes ruminant research positions, large/small animal veterinary work, and various farming positions. Professors Dr. Peter Erickson and Dr. Andre Brito facilitated her fascination with animal nutrition, and in 2018 she joined the Morrison's team.    Yianna covers southern Vermont, southern New Hampshire, western Massachusetts, and Maine. She can be e-mailed at yianna@morrisonsfeeds.com
BUSINESS OFFICE
Tina Mitchell - Business Administration
Vivian Layton - Business Administration
THE MFB FAMILY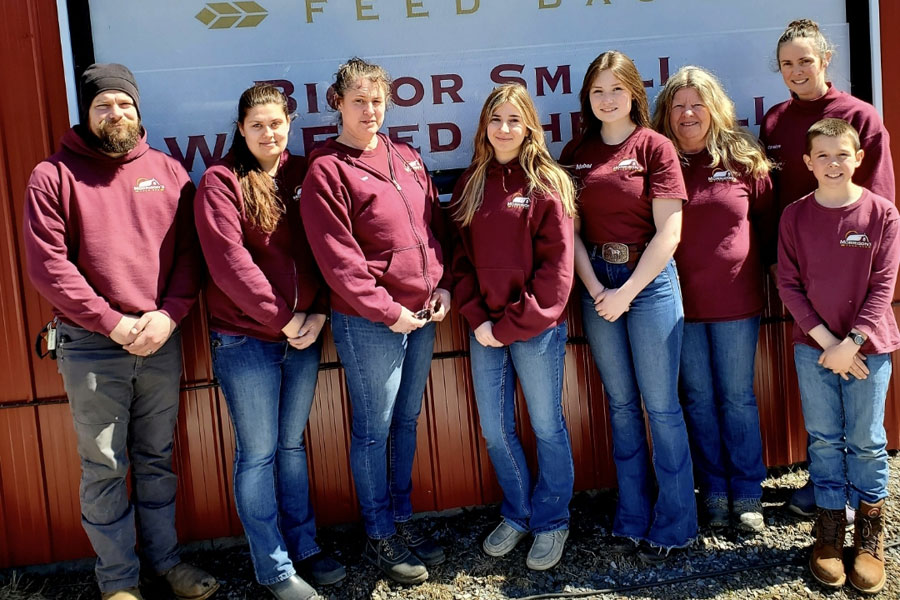 (from left to right) Kristopher DiGiulio, Laurie Warden, Lynn Whitcomb, Kinsey Laferriere, Mabel Buteau, Lisa Reynolds, Carolyn & Luke Morrison.
Carolyn Morrison hales from a family farm in New York State, gaining a degree in Agriculture Business Management from SUNY Cobleskill. Carolyn moved to the Green Mountain State in 2006 to pursue a career in dairy nutrition and grow her herd of meat goats. When Morrison's Feed Bag opened it's doors in August 2007 Carolyn joined the new business as manager, then joined the Morrison family a year later marrying Earl. Today their two sons Luke and Caleb enjoy life on the farm with a barn full of chickens and Nigerian Dwarf dairy goats.
Lynn Whitcomb is a Vermont native, born and raised on a dairy farm. Today she raises pigs and chickens and goats over her many pets at her home in Sheffield. Lynn joined our company in 2012 bringing over a decade of experience in customer service to our team. Morrison's Feed Bag appreciates Lynn's outstanding customer service qualities and warm personality that puts a smile on everyone's face!
Laurie Warden is a Barnet, VT native raised on the farm, in the garden and in the sugar woods. Laurie joined the Morrison's team in the Spring of 2020 and now manages our clothing department. Laurie once again resides in Barnet with her dog, Loki and bunny, Mary.
Lisa Reynolds was born and raised in Vermont with a long history in the horse industry. You can find her at Pony Pulling competitions throughout the summer when she's not blessing all of us at the Feed Bag with her sense of humor. Lisa brought nearly a decade of retail and service experience when she joined our team in 2022.
Kris DiGiulio joined our team in 2022 as our warehouse manager. Kris is a native of Northern Vermont so it's no surprise he chose the lovely Kingdom to settle with his menagerie of goats, ducks, geese, chickens, turkeys, pea fowl, dogs, and calves. In his free time he enjoys fishing Vermont's waters and participating in Medieval reenactments.
Mabel Buteau hails from northern New Hampshire and moved to VT with her family to pursue a degree in Environmental Science. Mabel's hobbies include horseback riding, welding, art and driving tractors.